My mother was Auschwitz survivor -- half gypsy. Her dad was a Partisan fighting Nazis to boot. She died of ovarian cancer, which is why the below story is intriguing. Terrible.
(CNN) -- The 12-year-old girl plucked cold, slimy potato peels out of the garbage containers in a village in eastern Poland. When those trash scraps became scarce, she ate clover.
Crumbs and decomposed food sickened Betty Potash Gold and her family members, causing diarrhea and bloody vomiting, as they hid from the Nazis.
Although Gold lived through extreme hunger, mental duress and near-death experiences during the Holocaust, she and other survivors face another peril decades after the war.
"Jewish survivors of World War II who were potentially exposed to the Holocaust were at a higher risk for cancer occurrence later on in life than those not exposed," concluded a study published in the November issue of the Journal of the National Cancer Institute.
Intense calorie deprivation, such as what Gold experienced, has long-term effects on survivors, said Dr. Micha Barchana, one of the study authors.
"We know that people who went through the Holocaust suffered severe calorie restriction," he said. "Calories they were taking in were 200 to 800 in this period."
Although studies with rhesus monkeys and mice suggest that limiting calories conferred cancer-protecting benefits, this study showed the opposite effect. People subjected to the intense caloric deprivation, especially at an early age, had greater likelihood of cancer.
Researchers at the University of Haifa in Israel compared the rates of more than 300,000 European Jews who immigrated before or during World War II as the control group and those who left after the war as the exposed group.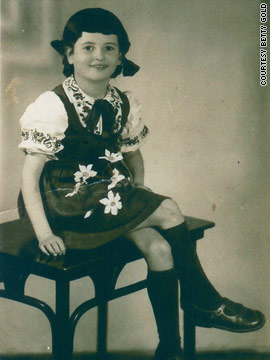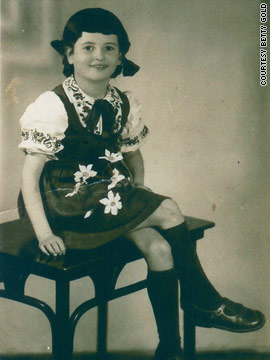 Gallery: Surviving the Holocaust and cancer
Men who were possibly exposed to the Holocaust had as much as 3.5 times greater risk of cancer than the non-exposed group. Exposed women had as much as 2.33 times greater risk.
"You read this, and you clutch realizing what these people have gone through," said Dr. Michele Forman, a professor of epidemiology at the University of Texas M.D. Anderson Cancer Center in Houston, who reviewed the study.
You read this, and you clutch realizing what these people have gone through.
--Dr. Michele Forman
Gold and her family narrowly escaped execution by hiding in a bunker with her family in 1942. Before the war, nearly 5,000 Jews lived in her hometown of Trochenbrod, in what was then Poland. Most of them were shot and buried in mass graves. Only 33 are believed to have survived.
Hiding in a cramped bunker in the wilderness, Gold and her family spent the daylight hours lying motionless, cold, hungry and infested with lice. At night, they foraged for food, hunter-gatherers -- except they were the hunted.
"My father instructed us that when they come to kill us and we crawl out of the bunker, not to wait for them to kill us," Gold said. "They told us to run. Run, maybe someone will survive."
Gold, 79, paused as her lips quivered.
"The fear of being discovered was always there. And the stress was always there. We didn't expect really to survive."
At a dainty 5 feet, Gold believes that she never grew taller because the war years stunted her growth. After subsisting on garbage scraps, she said, she developed permanent digestive problems.
The family hid in the Radzivil woods for nearly 2½ years, until they were rescued by a Russian resistance group and sent to a collective farm.
Memories still haunt the Cleveland, Ohio, resident. As a young girl, she ran past the corpse of her uncle, whose throat had been slit. She watched as a relative suffocated her own infant so the cries wouldn't give away where the family hid.
Immediately after the war, she picked up cigarettes, encouraged by an American soldier. The smoking, she believes, contributed to lung cancer.
The fear of being discovered was always there. And the stress was always there.
--Betty Potash Gold
The study researchers explored the possible link between higher lung cancer rates and the traumatic events.
"Persons who experienced the Holocaust are at high risk for posttraumatic stress disorder. Tobacco smoking is often used by people suffering from posttraumatic stress disorder," wrote the researchers of the study, hypothesizing that stress may have caused more smoking and then higher lung cancer rates.
It's difficult to determine how mental stress affected cancer, said Barchana, head of the Israel National Cancer Registry. In the 1970s, he observed that Jewish immigrants from Europe had much higher rates of cancer, which led him to suspect that the Holocaust was a factor.
The current study found that after controlling for other factors, men possibly exposed to the Holocaust were twice as likely to develop lung cancer as non-exposed males of the same age and ancestry. Women possibly exposed to the Holocaust had up to 2.44 times greater risk of breast cancer.
Because researchers did not have personal and medical histories available, they relied on immigration data to compare cancer rates among those who immigrated before and after World War II to what became Israel in 1948.
A 2003 demographic review estimated that about 1 million Holocaust survivors are living, with half of them in Israel and about 174,000 in the United States.
Gold caught the cancer early and recovered.
"Cancer was much less of a threat than living through the Holocaust," she said. "It was a daily cancer. Maybe not physically, but brain cancer. It was horrible. Each day was an eternity. It's like suffering every single day, every moment in your life."
Maybe, she said, it taught her to cope.
"They call me the survivor," she said. "I pick myself up, zip my boots up, and I continue."